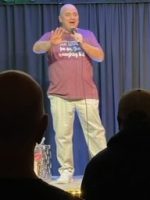 Hi! I'm Tim, and there are two things that I love to do. . .make people laugh. . .and help people experience the love of Christ!
I do family friendly stand-up comedy both locally and around the country and I love to connect people to God through laughter.
When preachingI like to make people laugh when I'm preaching as well, and I believe that church should be a fun place.  I base this off of the fact that my biggest joy in life comes from watching my children laugh, and I believe that our heavenly Father likes to see His children laugh as well. . . .so we laugh a lot during worship.
But I also know when to be serious! I do my best to provide Biblically based and thought-provoking messages that are relevant in today's world.
I have an unusual story for a pastor. I grew up in the church, but never stepped foot in a church from the time that he was in middle school, until about 10 years ago. To make a long story short, I made a ton of mistakes, and lived for myself, but God never gave up on me. God continued to call me, and once I said yes, my life has never been the same!
After coming back to Christ, I received a master's degree from Asbury Theological Seminary. Then, I was the lead pastor in the turnaround of a church in Tennessee and in Oklahoma. However, I feel like my future is in Lansing.
I feel called by God to make Christ Community Church a huge part of the revitalization of downtown Lansing and I would love to be your neighborhood pastor!
Because of my past, I relate well with "broken people." And by the way, when I refer to broken people. . .I'm referring to everyone! Because we're all broken people in need of the grace of Jesus! I am not a "holier than thou" type of pastor. I am a flawed individual who is simply allowing God to use me to make a difference in the world.
Like many others, I have been harmed by churches in the past. I know what that feels like. Because of that, I love to meet others who have had bad church experiences to show them that there's a better way.
Shoot me an email at Tim@ChristCommunityLansing.org.  I'd love to hear from you!
Youtube – https://www.youtube.com/channel/UC_GYgWP6ops23w8-p6Y-M9w/?sub_confirmation=1
Instagram – www.instagram.com/tim_palmer_comedy/
Facebook – www.facebook.com/TimPalmerComedy